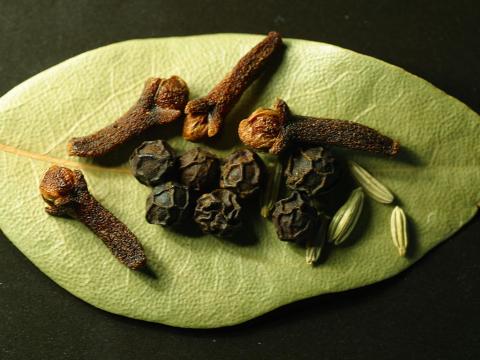 Ingredients:
2/3 lb. crimini mushrooms, sliced about 1/4" thick
3 T cooking oil
salt & pepper TT
1 T cooking oil
1/2 red onion, diced small
1 head broccoflower, core removed and cut about 1/2" on a side
salt & pepper TT
1 lemon, juiced
1 t berbere spice blend, or more TT
Instructions:
1. Preheat oven to 400 degrees.
2. Toss the mushrooms with the first 3 T cooking oil and season lightly with salt and pepper. Spread on a baking sheet and roast for 20 minutes or until well-browned and crispy. When they dry, they should be like thick chips in texture.
3. While the mushrooms are roasting, heat a large saute pan over high heat and add the last of the cooking oil. Add the onion and cook for 2-3 minutes, then drop the heat to medium-high, add the broccoflower and season with salt and pepper. Cook for about 5-7 minutes more, then add the lemon juice and berbere. Add the mushroom chips. Serve as a salad by itself or as a topping for something else.